Each year we partner with companies and organizations that make the management of our rallies easier and the lives of our participants richer and more fulfilling. Get on the official partner list, contact us.
PARTNERS OF THE BAJA 4000
In Baja most of the areas we cover are not served by cell phone providers. To request emergency help, stay in touch with loved ones and business associates you will need a sat phone. Satmodo is the official phone rental partner of the Baja 4000. Please keep in mind that if you have a Thuraya cellphone from the Budapest-Bamako, it will not work here. Here are the rates and packages for the Baja. Satmodo.com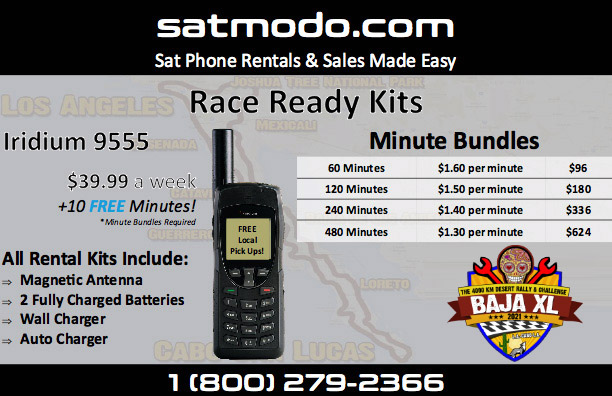 Visit RideBaja.com or call their friendly agents for an instant quote. You can purchase your insurance over the phone immediately. Others may be cheaper, but they stand by you should you ever file a claim and RideBaja is not only the insurance provider, but the company's principals participate in the rally.