2023 Dates Announced: Feb 17-Feb 26, 2023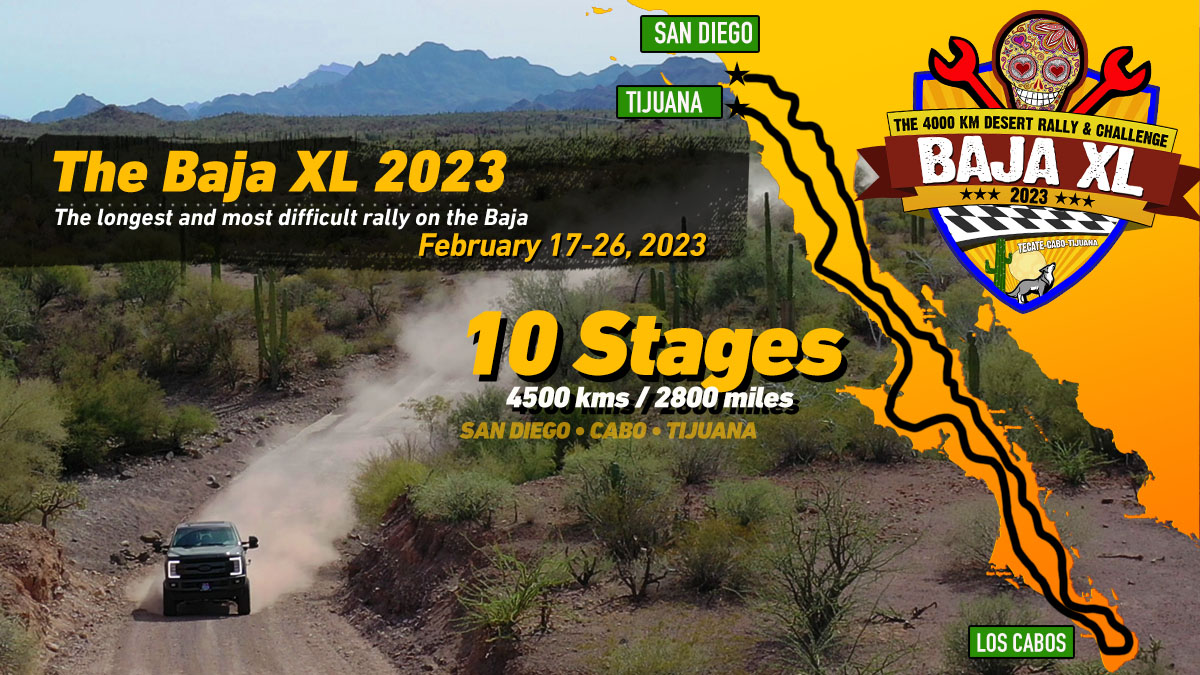 This spirit of desert racing and off-road overland trips live on. The Baja XL (formerly known as Baja 4000) has been a roaring success since 2017. Classic Baja racing will be combined with the zany energy of the Budapest-Bamako to bring you a unique once in a lifetime experience.
The BAJA XL returns for its fourth edition in 2023. Because of the Covid 19 the 2021 event was canceled in Baja California South. In 2023 will return to complete the stages that many teams missed out on in the south. The start line will be in San Diego and the finish line will be outside of Tijuana. In between teams will drive along the most scenic parts of Baja California in Mexico.

The BAJA XL will ride along dry salt flats, sand dunes, rocky dirt roads, sandy patches, cracked asphalt, silt beds and hard beach roads.
Spend nights in mystical canyons near hot springs. Bump along desert beach tracks and cut through cactus forests.
Experience off-road driving one of the most incredible eco-systems in the world.
The rally is held every two years. The 4th edition of the event will start in San Diego on February 17, 2023
Click here for detailed route.

Most driving will happen on dirt roads, yet most of the journey can be completed in regular two wheel drive cars as well. Most nights will be spent under the starry skies in your tent, but you can find motel/hotel alternatives on some of the nights. Be prepared to rough it for a few days.

The BAJA XL is a minimal assistance road rally. There are no rescue trucks, medical helicopters or travel guides. You have to rely on your own wits and resources to get out of trouble.
We will have one full rest day in the Cabo area where participants can enjoy the beach and we'll have a chance in for some grey whale face time in Guerrero Negro
The BAJA XL is open to "anyone by anything". If it's street legal you can drive it. The rally is open to cars, motorcycles, trucks and whatever else you can think of. Further details will be announced in on our Facebook group. Space is limited to 50 teams in each category. It is strongly recommended that you enter early and secure your place.
MARK YOUR CALENDAR NOW: February 17-February 26, 2023