February 17-February 26, 2023
10 Days Of Magic
Detailed route of the 2023 Baja XL is now official. Teams can join the BAJA XL in competition, 4×4 adventure and touring categories. The route of all categories will be the same. However 4×4 adventure and competition will have more off-road sections. Teams in touring can complete the rally with minimal off-roading requirements.
For the first time the rally will start in San Diego in 2023. It'll be a round trip along the Baja peninsula. Covid threw a wrench in our plans in 2021 so most of 2023 will be a re-do of the 2021 route. We will travel on different routes going south and coming north. We've added a rest day near Cabo in the form of a two day stage. It will allow adventure category members to enjoy the sights of the tip of the peninsula and racing teams to fix their vehicles.
Teams will drive south on the east coast of the peninsula and the northbound trip will take place on the west coast.
The rally will finish in Tijuana instead of Los Angeles as originally planned.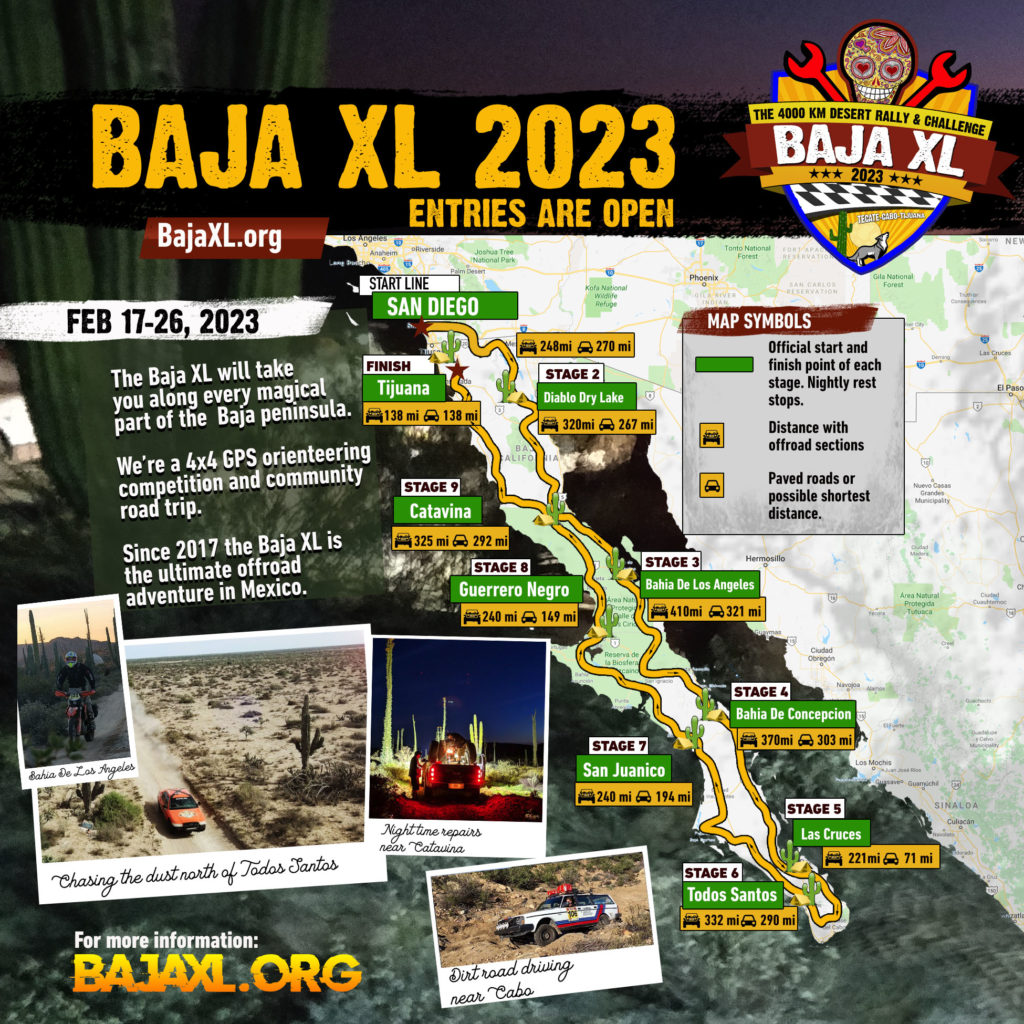 The stages are 300-400 miles each day with two short days in the south. There will be some long and difficult stages. Navigation will be a challenge on almost all stages.
The rally will pass through the most spectacular desert landscapes and beaches of Baja California. Raw untouched natural beauty, off-the beaten path adventures have been the trademarks of Bamako Adventures. This trip will be no different.
Stage 5 can be a short rest day for teams outside the competitive category. Guerrero Negro will be the whale watching half rest day. Todos Santos will be an official rest stop where you can take in all the magic of this "Pueblo Magico". If you are in the touring category you can even skip a day or two and lounge on the beaches of Todos Santos or San Juanico. Our last night in Mexico will be in Tijuana where teams can let off steam and experience the party capital of Baja.
Official camp sites and hotels will be announced in January 2023 in the roadbook.
Here is the official route of the 2023 BAJA XL. The first number is the official race route distance. The second number is the shortest possible distance between the two points.
Date
Start and finish
Distance:
Official/Shortest
All in miles.
Feb 17
San Diego-Diablo Dry Lake
248/270
Feb 18
Diablo Dry Lake-Bahia De Los Angeles
320/267
Feb 19
Bahia De Los Angeles-Bahia De Concepcion

410/321
Feb 20
Bahia De Concepcion-Las Cruces

370/303
Feb 21,22
Las Cruces-Todos Santos
This is a 2 day stage. Feb 22 is open for rest and repairs.
221/71
Feb 23
Todos Santos-San Juanico
332/290
Feb 24
San Juanico-Guerrero Negro
240/194
Feb 25
Guerrero Negro-Catavina

240/149
Feb 26
Catavina-Tijuana
325/292
TOTAL
2879/2257
miles
4606/3611
kilometers
Things change all the time. Conditions get bad. Roads disappear. Weather intervenes. This route may change any time for any reason. Dates may change any time. Distances are approximate numbers.
HIGHLIGHTS OF THE BAJA XL ROUTE
We will enter Mexico through Tecate which is made famous by its beer factory. Teams can use any other entry point to Mexico.

Stage 9 will start from the cactus and boulder parks of Catavina and take you through some of the most dramatic ocean cliffs Baja has to offer.

Seeing gray whales up close and personal is a truly awe inspiring moment of the rally. The Guerrero Negro stage is kept short so teams can experience these majestic animals.